Mobile Crane Training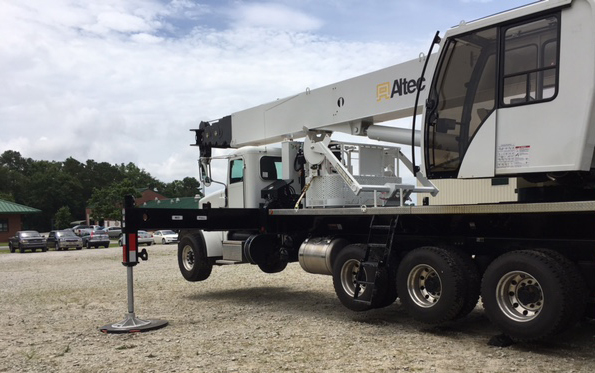 Altec Mobile Crane Training was brought to SC OSHA from Federal OSHA's (Region 4) National Alliance with Altec Industries. SC OSHA hosted two separate 12 hour training sessions at the South Carolina Fire Academy on June 20-22, 2017 for 30 attendees. The mobile crane training class covered the entire 1926.1400 Cranes & Derricks in Construction standard and included hands on training with an Altec AC40 Series Mobile Crane by Instructor Phil Doud.
The class introduced personnel to the basics of safe operation of mobile crane units and introduces compliance officers to significant hazards for which to inspect. Topics covered include safety statements, hand signals and OSHA and ANSI standards; daily unit inspections; job briefings, unit setup and pre-operational checks, safe work practices, and load lifting (including main boom lifting, jib extension lifting and other lifting devices and accessories).
Outreach
The Office of Recognition Programs and Outreach has continued to work with employers throughout the state to explore new initiatives for improving workplace safety and health. South Carolina Occupational Safety and Health Administration Voluntary Programs (SC OVP) began the South Carolina Occupational Safety Health Administration Outreach Initiative to provide South Carolina high school students with basic safety orientation.
The Outreach program provided safety training to over 350 students at the Golden Strip Career Center in Greenville SC. Approximately 120 students were trained and certified in the OSHA 10 hour class. This certification gives the students an advantage when entering the workforce. General Safety Awareness training was provided for students on career paths that do not require an OSHA 10 certification. This training helped students that are working at manufacturing facilities, following vocational education pathways, or just looking to obtain general safety knowledge that will benefit the student as well as potential employers. With this safety awareness training, the student can enter the workforce with safety knowledge that will empower the student to help employers build a safety culture which will lower the injury and illness rates and in turn will lower workers compensation rates and increase productivity. In addition, this also helped the schools to fulfill the South Carolina Department of Education requirement for OSHA Awareness Training, OSHA 10 and OSHA 30 training requirements as stated in the Career and Technology Education Manufacturing Course Standards for Introduction to Manufacturing, Welding, Mechatronics, Machine Technology, and Electronics. The benefits of the program are, students enter the workforce with safety and worker's rights knowledge, receive instruction from major area companies which builds relationships with the companies, and employers are getting employees that can step into the workplace and build upon the culture of safety.