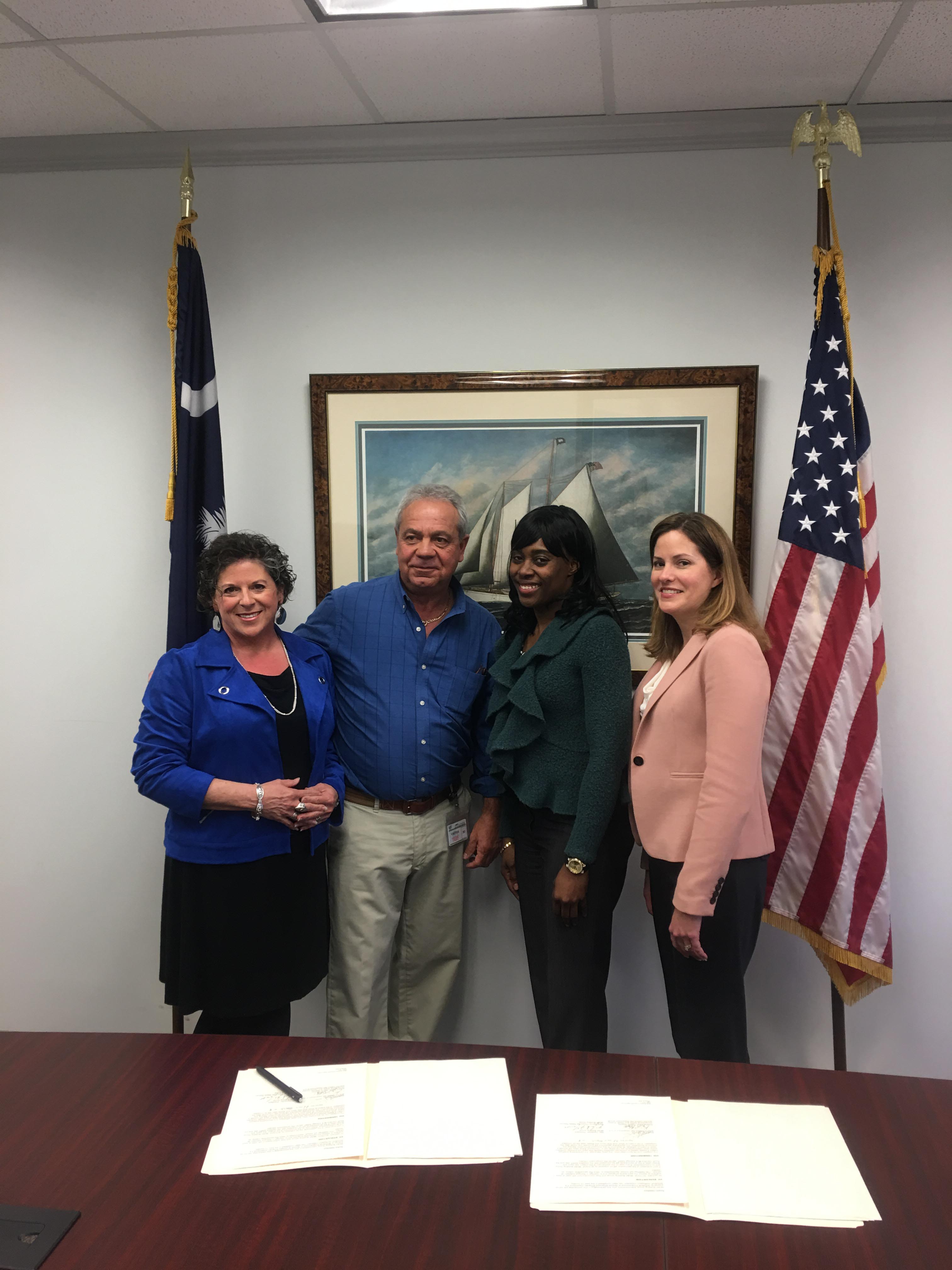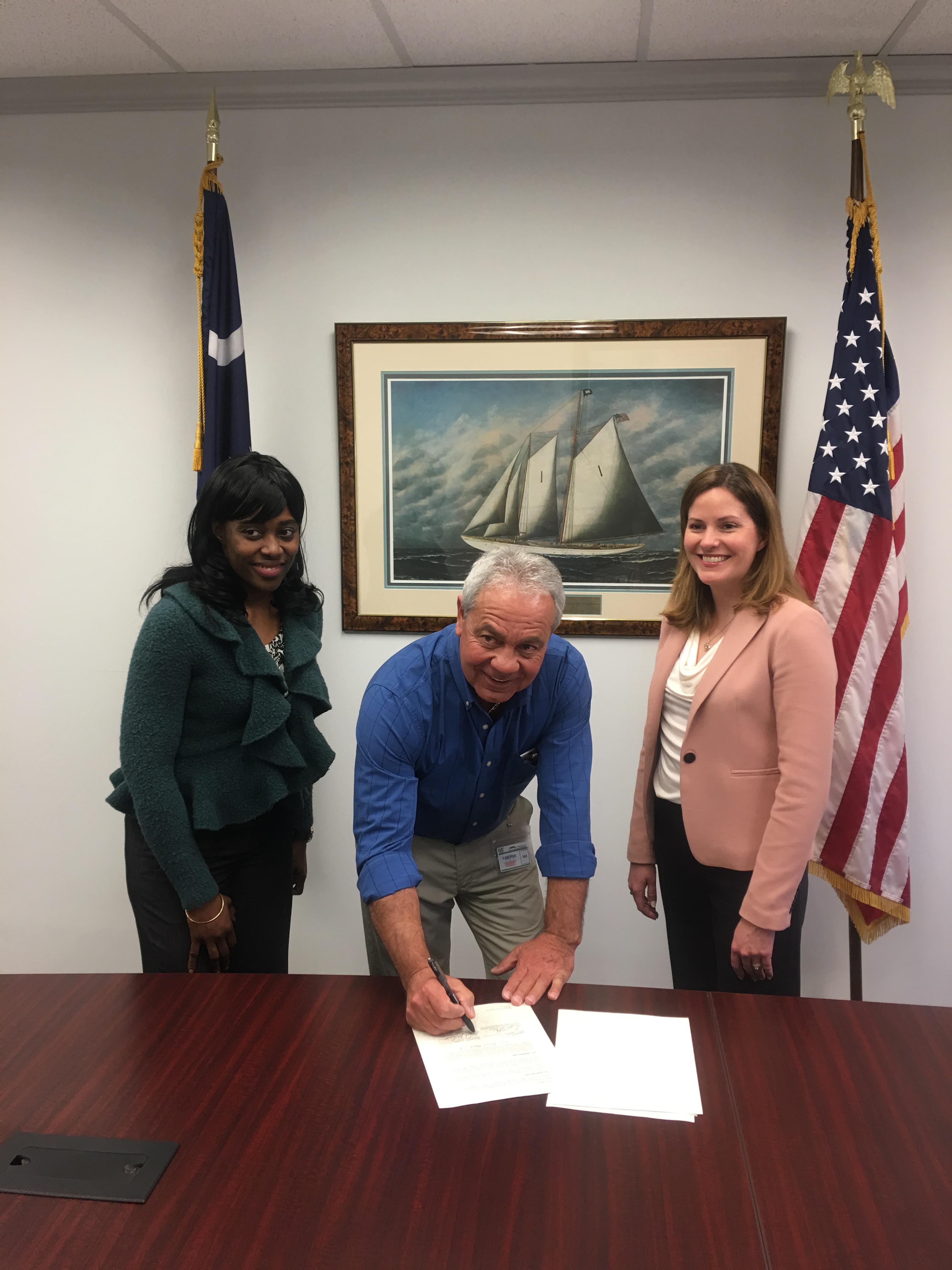 BE&K Building Group and South Carolina Occupational Safety and Health Administration (SC OSHA) entered into a limited partnership on Thursday, March 22, 2018, to provide the safest possible work environment for subcontractors on the company's building project in downtown Greenville.
With this partnership, SC OSHA will visit the site regularly to help identify and correct potential hazards and also will provide training and incentives to participating contractors who voluntarily improve their safety and health performance.
This agreement with BE&K is consistent with SC OSHA's long-range efforts to develop workplace safety partnerships within the construction industry. It allows for better use of SC OSHA resources, fosters innovation in safety management, and encourages active participation in the safety process on the part of construction/trade association communities.
One of the long-term benefits of partnerships like this one is that subcontractors and employees take what they learn about safety at the BE&K project site to future construction worksites.
This project includes the construction of the Residence Inn and Spring Hill Suites in downtown Greenville. The anticipated completion date of this project is January 2019. SC OSHA previously partnered with BE&K Building Group on the Boeing Expansion Project in Charleston.
For more information on partnerships with SC OSHA, call (803) 896-7744.

Do you want to show your workers you care but are not sure where to start? To help demonstrate your commitment to a safe workplace and sound business, check out these resources:
OSHA's new fact sheet,Safety Walk-Arounds for Managers,provides suggestions for conducting inspections that can help you evaluate the effectiveness of your current safety and health efforts and communicate directly with workers about hazards in their jobs.
The National Safety Council's article,Speaking of Safety: Changing the Atmosphere Around Safety Conversations,helps managers engage in effective safety conversations with workers at all levels.
The Safe + Sound Campaign'sfirst live, free webinar (limited space available), Tools for a Successful Workplace Safety and Health Program, highlights resources you can use to become an effective safety leader and create a strong jobsite safety climate. This webinar will be hosted by CPWR: The Center for Construction Research and Training on Wednesday, February 21st at 2pm EST and a full recording of the presentation will also be available following the event.
The Safe + Sound Campaign is organized by OSHA, the American Industrial Hygiene Association, the American Society of Safety Engineers, The Center for Construction Research and Training, the National Institute for Occupational Safety and Health, the National Safety Council, and the Voluntary Protection Program Participants' Association. For more information and additional resources to help you establish or improve your safety and health program, visit the Safe + Sound Campaign website.
Applications for the SC Division of Labor Safety Awards...coming soon!
May 7-11, 2018
Fatalities caused by falls from elevation continue to be a leading cause of death for construction employees, accounting for 370 of the 991 construction fatalities recorded in 2016 (BLS data). Those deaths were preventable. The National Safety Stand-Down raises fall hazard awareness across the country in an effort to stop fall fatalities and injuries.
https://www.osha.gov/StopFallsStandDown/
If you would like to share information with SC OSHA on your Safety Stand-Down, Fall Prevention Programs or suggestions on how we can improve future initiatives like this, please send your email to Harvey.Jessup@llr.sc.gov. Also share your Stand-Down story on social media, with the hashtag: #StandDown4Safety.