SC OSHA Providing Assistance as State Recovers from Hurricane.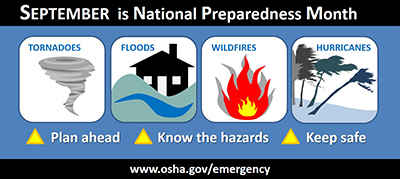 In light of the current and approaching hurricane, we want to remind South Carolina employees that OSHA has resources to help keep workers safe.
Since hurricane season peaks in September SC OSHA is urging employers to be prepared to keep their workers safe during extreme weather events. The agency's Emergency Preparedness and Response webpage provides information on protecting workers before and after hurricanes, wildfires, tornadoes, floods, and other natural disasters strike.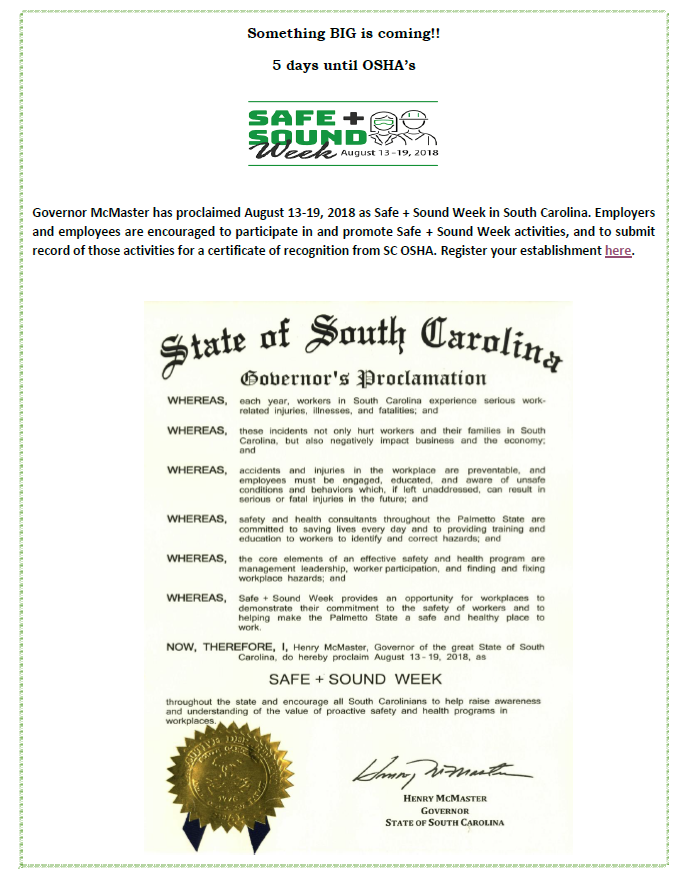 In support of SC OSHA's Safe + Sound Campaign, Governor McMaster has signed a proclamation declaring August 13-19, 2018 as Safe and Sound week in South Carolina.
OSHA Partners are also providing a free online presentation to raise awareness of the value of having an effective safety and health program. The presentation will feature information on management leadership, education and training, program evaluation and improvement, and communication.
The one-hour recorded webinar will be available for viewing from August 13-19, 2018. Register here.
Thank you for your commitment to safety and health.
Thank you for your interest in occupational safety and health. You may obtain more information on this topic and other safety and health related topics by visiting our websites at www.scosha.llronline.com or www.osha.gov. You may also follow us on Twitter @SCDLLR.

OSHA is postponing enforcement of certain requirements of the final rule on occupational exposure to beryllium in general industry. Requirements originally scheduled for enforcement on June 25, 2018 will not be enforced until August 9. 2018 The requirements include beryllium work areas, regulated work areas, methods of compliance, personal protective clothing and equipment, hygiene areas and practices, housekeeping, communication of hazards, and recordkeeping. For more information, read the memorandum.
The list of 2018 award recipients is available here.